Burton – Littleton Drew – Grittleton – Alderton – Badminton – Acton Turville – Burton
11.1 miles, 310 ft (95m)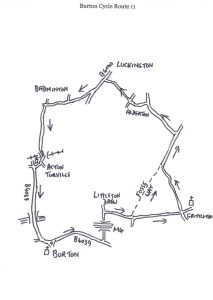 Blog by Ian Wilson
This route is best avoided after heavy rain as one section is liable to flooding.
 
Leave Burton eastbound on the B4039 then turn left opposite the Coachstyle depot. Pass under the M4 then just before entering Littleton Drew take the unsigned lane to the right.
 
The lane ends with a gentle descent to a T-junction beside a house. There are two alternatives here. The first is to turn left before the house on to the Fosse Way, this section of which is not tarmac but is quite rideable and rejoins the tarmac road in a little over a mile. For those who prefer to remain on tarmac, turn left after the house then take a further left just before entering Grittleton. The route becomes the Fosse Way after a fairly sharp right bend.
 
Ascend on the Fosse Way then after half a mile turn left signed Alderton. Take the next left which come to the edge of the village by the duck-pond. Go straight ahead at the cross-roads and descend fairly steeply to the B4040. Turn left on to the main road but leave it again almost immediately to the right.
 
This lane ascends gently with the Avon first on the left then on the right. It is some distance along here the Avon misbehaves itself  in heavy rain and floods the lane quite deeply. After a couple of miles Badminton is reached. The ride can be extended or to see the village by taking Hayes Lane to the right and keeping left at each junction.
 
Turn left at the next T and continue to Acton Turville. The B4039 completes the ride to Burton in a mile.
If you liked this, see more like it here.
This article by Ian Wilson originally appeared in The Bugle.