The Poppy Project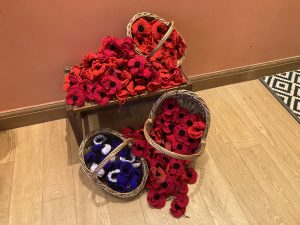 A further meeting of the Poppy Project took place on 24th March. It turns out we now have over 700 completed poppies along with our first MALE recruit.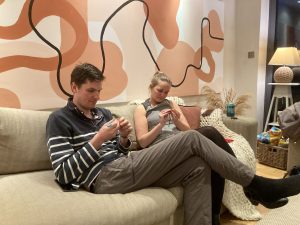 Our new goal is 1000 poppies which should be easily achievable.
Thoughts are turning to the design of the finished "drape" and we are now planning on adding different coloured poppies and a design created within the drape, so I did some research on what  different coloured poppies symbolise.
Red Poppy – is a symbol of both Remembrance and hope for a peaceful future. It was initially a memorial to World War 1 and following conflicts. It was promoted by the Royal British Legion, a charity set up by the veterans of World War 1 and was inspired by the fields of poppies that grew where many of the battles had been fought.
Over time poppies of other colours have become symbols for memorials to different groups.
Purple Poppy – to remember the animal victims of war.
Black Poppy – Remembering African, Black and Caribbean communities' contributions.
White Poppy – Remembers people who died in conflict with a focus on an end to war.
If you want a change from the red/black traditional poppy, please feel free to use one of the above colours.
We have also had an offer from a Nettleton resident to make some wooden poppies which will add a further dimension to the project.
The next Big Knit meeting will take place towards the end of May. Details will be posted nearer the time.
If anyone would like to join in with the project please leave a reply in the form below. Your information will only be seen by WebAdmins