Progress Report

1350 poppies is a LOT of poppies and the design process started on August 11th at the New House on one of our super hot days of the month.
A joint discussion resulted in a design which pleased everyone AND would produce impact and be seen from a distance. Attaching said poppies began with enthusiasm.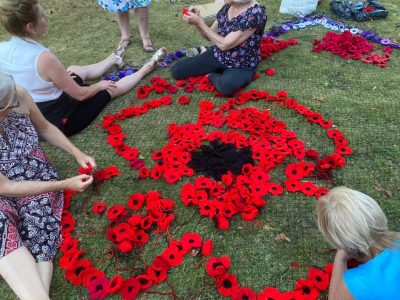 Unfortunately, the process hit a major snag when we realised the sheer weight of such a ton (well, nearly😉 ) of poppies were not going to be supported by the netting we had hoped to use for the job.
After a bit of head scratching and many suggestions, some retained and some discarded, we think we have found the solution. Adapt and survive has become our motto.
The next meeting will be at The New House again on 7th September at the slightly earlier time of 5pm.
All welcome as we need the poppies attaching to the new (improved) design).
Structural engineers particularly welcomed.😁