Burton's celebrations of the coronation of HM King Charles III took place on Sunday 7 May 2023 in the field behind the Church, by kind permission of Greg and Freddie Clark.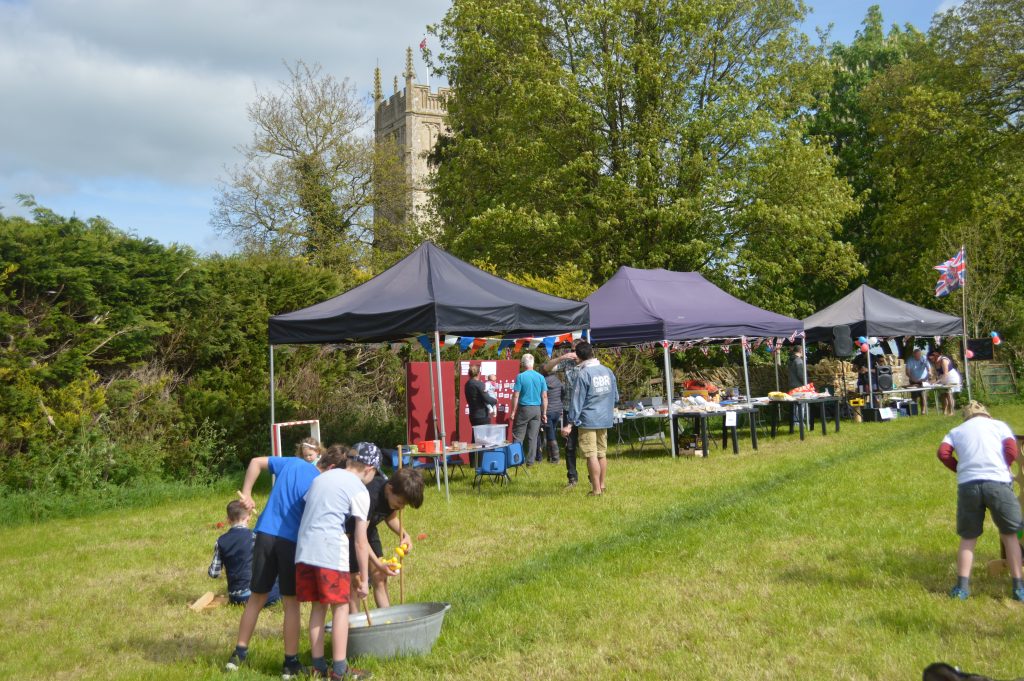 The picnic on the farm involved Clayzer laser clay pigeon shooting, a treasure hunt, a quiz, a fun photo booth and more.
Community
The free event, which brought together over 100 of Burton's adults and children, was as much a celebration of community as of the coronation.
A village-wide collaborative catering effort went into baking, preparing and supplying a belt-busting bounty including homemade quiches, pies, coronation chicken sandwiches, scones, Victoria sponge, Bakewell tart, coffee and walnut cake, and a spectacular Burton Baker-made celebration cake.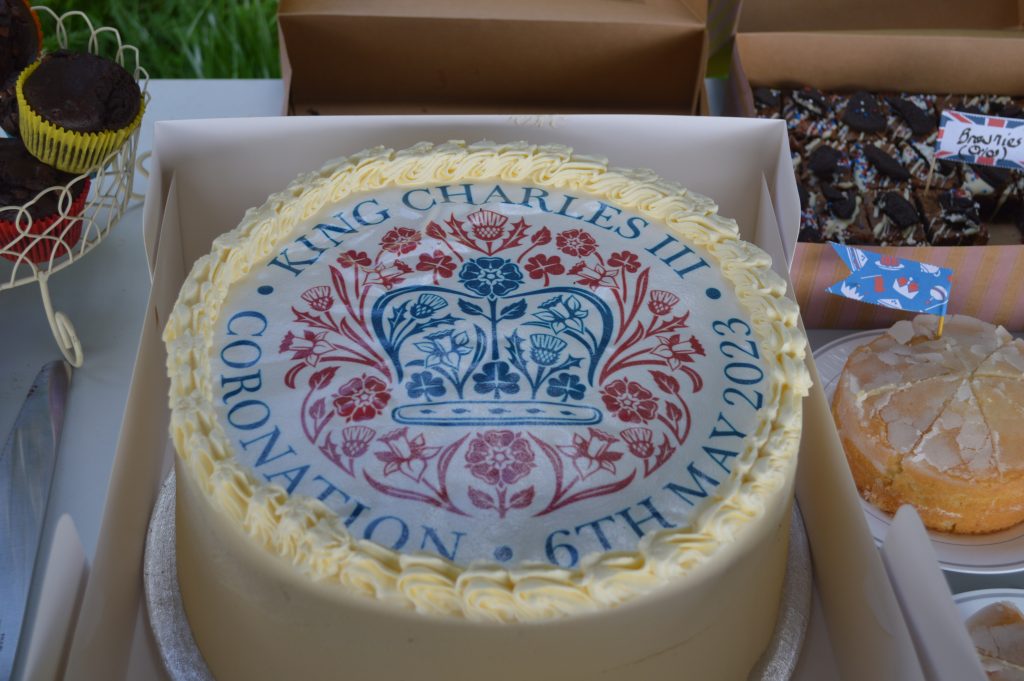 Laser Clay Shoot
In between a cucumber sarnie and a slice of lemon drizzle, gunslingers headed for the Clayzer shoot, owned by Burton locals Bev Lee and Chris Lancaster. Several quickfire rounds ensued before the showdown in which the following emerged victorious in their respective classes:
Adults: Ollie
Under 16s: Lewis
Under 10s: Toby
Treasure Hunt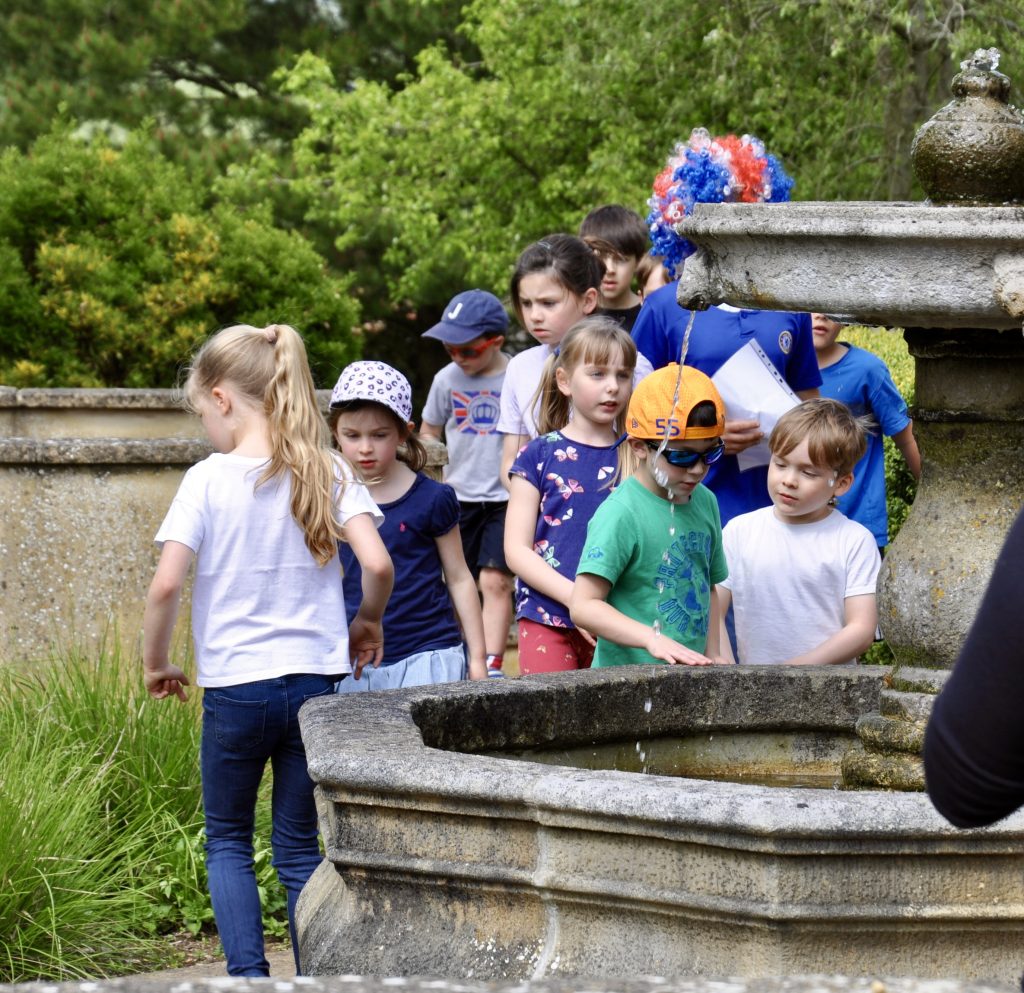 Meanwhile, Sabine Mayer got the treasure hunt underway by leading the children pied-piper style through to the garden of The Old Rectory, which was kindly made available by Alastair McKee. The pint-sized sleuths solved the clues in double-quick time for the reward of a treasure chest of Kinder eggs.
Quiz
When master of ceremonies Welsh Paul called for neighbours to form quiz teams, little did we know that arch-riddler Magda Reglewska had devised such a cunningly devious quiz. We soon discovered that our knowledge of Britain and the Royals was not as strong as we might have expected (Questions & Answers Here). The quiz ended with a shock win for It Wasn't Us, the shock being that all bar one of the team, believing they didn't stand a chance, had left before the results were announced. The solitary teamster was delighted to accept a bottle of Prosecco on behalf of her absent teammates, to whom she wishes to extend the following message, 'possession is nine tenths of the law'!
Music
Throughout the afternoon, mixmaster Harry Bourne curated The People's Playlist as voted by Burton in a pre-party poll.
Sunshine and Smiles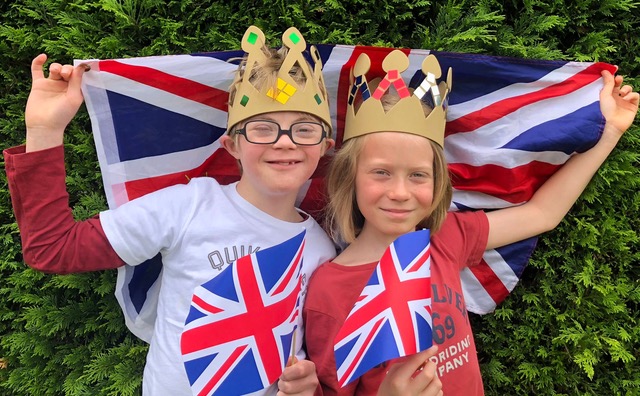 On a day characterised by sunshine, smiles and acres of bunting, one partygoer described the picnic as 'such a brilliant day for the community. We thoroughly enjoyed ourselves'.
The event, one of 67k+ taking place in Britain over the Coronation weekend, was supported by input from Burton residents, with a financial contribution from the Burton Community Association.
Acknowledgements
Many thanks to all those who contributed their time in setting up and tidying up, as well as their culinary skills and food donations towards making the party a huge success. The shareable feast came from the Bowens, Cheryl Green, Claire Pearse, Clare Ball, Clare Bastable, Cynthia Walsh, Donna, Grace, the Hockins, Janet Lines, Julie Ashton, Lydia, Sabine M, Magda R, Margaret Staincliffe, Marje Caie, Niki Harris, Paula Coyle, Pauline G, Paul Lortal, Plum Hitchens, Rach & Tris, Rose D and daughter Liz, Sally Cambridge, Sara Thorman, Sue Clark, Amanda and possibly more besides.
Thanks also to Chris Bennett for making it happen, to Magda Reglewska for bamboozling us with the quiz, to Steve Matthews as chief adjudicator, to Sabine Mayer as Treasure Hunter, to Harry Bourne as DJ, to Welsh Paul as MC, to Bev Lee and Chris Lancaster of Clayzer for the shootout and games, to Marje Caie for permitting use of Church facilities, to Chris B's son for the external power cable, to Rachel and Tris for the sound system, and to Pawel Dziadon for bringing ice cream to Burton.
Thank you to Greg & Freddie Clark and Alastair McKee for use of the 'premises'.
Photographers: Chris Bennett, Julie Ashton, Steve Matthews, Magda Reglewska, Bev Lee, Chris Lancaster and Clare Ball.