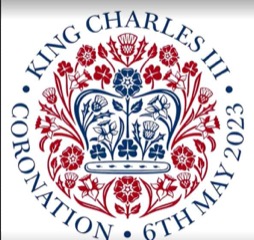 Party on, Burton!
To help you make the most of the Coronation Party, we've put together a quick reference guide of what to bring and what to expect on the day.

When & Where
Sunday 7 May, 2pm
the field behind the Church
Entrance: FREE. Burton residents only
The main event will take place in the field behind the Church by kind permission of Freddie Clark. The treasure hunt will be in the gardens of the Old Rectory by kind permission of Alastair McKee.

What to bring
This section covers seating, food, drink, picnicware, cash, colour-in crowns and bunting, quiz, dogs, and general waste.
Seating
Camping chair, picnic rug or similar, plus anything else to make yourself comfortable and weatherproof (dare we suggest, sunscreen?!).
Food
If you have pledged food to share, please bring it to the food marquee between 2pm and 2:30. Vegetarian and Vegan foods will be segregated from general Savoury and Sweet foods, so please be sure you put your finger-food-to-share on the appropriate table. Food labels have been pre-prepared for pledges where these have been specified. There will also be plenty of spare labels available.
We recommend you label the underside of your serving plate/dish with your name.
If you aren't sure what food to bring, we could do with more of the following:
Sandwiches, especially vegetarian. Also classic fillings, such as Bacon, Lettuce & Tomato; Bacon & Avocado; Salmon & Cream Cheese; Tuna Mayo
Vegetarian savouries, such as felafel, samosas, bhajis, dolmades. Many of these can be bought ready to eat from all good supermarkets
Drink
Your own soft or alcoholic drinks. None will be provided.
Picnicware
To reduce waste, please bring your own plates (melamine or paper), cutlery, plastic cups/beakers (no glass please).
Cash
A small amount if you think you might want an ice cream. Paul's ice cream van – Burton's regular ice cream trader – is hoping to drop by during the afternoon. (For guidance, a '99' costs £2.50).
Colour-in Crowns and Bunting
Download the crown template and bunting template to colour in and bring on the day.
Quiz
We'll provide the answer sheet and a pen/pencil, but you might want to pack a clipboard/hardback book/magazine or similar to support your paper while you scribble down your answers.
Dogs
Well-behaved dogs on leads are welcome. If you are bringing a dog, please also bring your own water and dog bowl, plus bags. Please pick up after your dog, thank you. No dogs allowed in the Old Rectory.
General Waste
Please take your waste home with you.

Order of Events
| Time | Event |
| --- | --- |
| 2pm | Gates Open. Join in activities such as Clayzer laser pigeon shooting, and decorate your own crown and bunting |
| 3pm | Treasure Hunt. Will take place in the garden of The Old Rectory. |
| 4pm | Quiz |
| 6pm | Gates Close |

For further information head over here.
Don't forget, for any queries, please add a comment below and we'll get right back to you.
With apologies to those living outside Burton, this party is for residents only. Burton will be holding other events during the year (watch this space) to which all will be made very welcome.