Sapphire Skies (2015) by Belinda Alexandra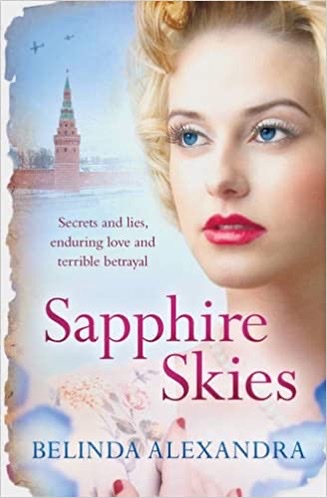 Description
A love bigger than a war. A beautiful woman lost. A mystery unsolved … until now.
2000: The wreckage of a downed WWII fighter plane is discovered in the forests near Russia's Ukrainian border. The aircraft belonged to Natalya Azarova, ace pilot and pin-up girl for Soviet propaganda, but the question of her fate remains unanswered.
Was she a German spy who faked her own death, as the Kremlin claims? Her lover, Valentin Orlov, now a highly-decorated general, refuses to believe it. Lily, a young Australian woman, has moved to Moscow to escape from tragedy. She becomes fascinated by the story of Natalya, and when she meets an elderly woman who claims to know the truth behind the rumours, Lily is drawn deeper into the mystery.
From the pomp and purges of Stalin's Russia through the horrors of war and beyond – secrets and lies, enduring love and terrible betrayal, sacrifice and redemption all combine in this sweeping saga from Belinda Alexandra.
This book will be discussed at our meeting on 20 March 2023

Find out more about the Burton Book Club here. If you'd like to join the Book Club, please drop a line in the comments section below. The dates of the Book Club meetings are listed in the Event Calendar and the club read is posted on this website every month.
Find more reading suggestions in our Bookmark section, full of Top 10s and book reviews.