A Spy Among Friends: Philby and the Great Betrayal (2015) Ben Macintyre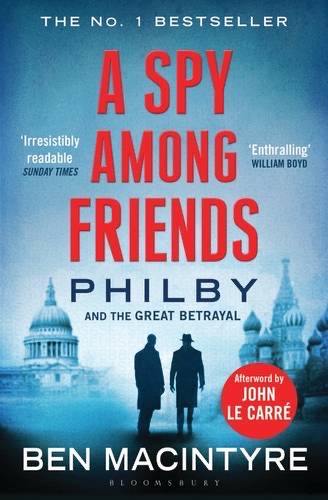 Description
A SUNDAY TIMES No. 1 BESTSELLER WITH AN AFTERWORD BY JOHN LE CARRÉ
'Riveting, astounding … An unputdownable postwar thriller' Observer 'Irresistibly readable' Sunday Times 'Worthy of John le Carr e at his best' Guardian 'Hugely engrossing … Both authoritative and enthralling' William Boyd
Kim Philby was the most notorious British defector and Soviet mole in history. Agent, double agent, charmer and traitor, he betrayed every secret of Allied operations to the Russians in the early years of the Cold War. In the aftermath of the Second World War, Philby, Nicholas Elliott and James Jesus Angleton were rising stars in the intelligence world and shared every secret. Elliott and Angleton thought they knew Philby better than anyone – and then discovered they had not known him at all.This is a story of loyalty, trust and treachery, class and conscience, of male friendships forged, and then systematically betrayed. With access to newly released MI5 files and previously unseen papers, A Spy Among Friends unlocks what is perhaps the last great secret of the Cold War.
This book will be discussed at our meeting on 21 November 2022
Find out more about the Burton Book Club here.
If you'd like to join the Book Club, please drop a line in the comments section below. The dates of the Book Club meetings are listed in the Event Calendar. The selected books are posted on this website every month.
And if one book isn't enough, check out this month's Between the Covers, for a Top Ten of dark tales for Halloween.