The End of Men (2022) by Christina Sweeney-Baird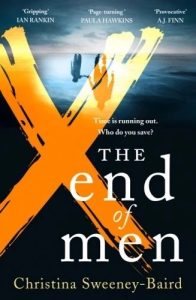 Description
A RACE AGAINST TIME
The year is 2025. Mankind is under threat.
A FIGHT FOR THEIR LIVES
Men are dying, but women remain safe. As the sickness spreads to every corner of the globe, people fight to protect the men they love against all odds.
A DISASTER LIKE NO OTHER
Can they find a cure before it's too late?  Will this be the story of the end of the world – or its salvation?
Compelling and devastating, The End of Men is the pulse-pounding thriller everyone is talking about.
This book will be discussed at our meeting on 18 July

 2022
Find out more about the Burton Book Club here.
If you'd like to join the Book Club, please drop a line in the comments section below. The dates of the Book Club meetings are listed in the Event Calendar. The selected books are posted on this website every month.
And if one book isn't enough, check out this month's Bookmark for news, reviews and reading highlights.