Credit: Lee Jane Hawkes
The Back Story
Back in November 2020 Ange Clark was selling local vege and eggs from her front garden as a way dealing with the boredom of lockdown. She also wanted to help local residents access fresh produce without the need to travel.
Her partner Dan, comes from a farming heritage with several generations of his family in the farming industry resulting in lots of contacts in the locality to source the fresh vege and eggs. Soon, orders for bread and other sundries were coming in.
By May 2021 a bright idea was turning into a reality, with the start of building on "Phase 1" of the Burton Farm Shop and Kitchen. Shipping containers were used as the shell of the building before the whole thing was clad in wood both inside and out. This gives it the rustic feel that Ange was keen to maintain in keeping with the farm setting..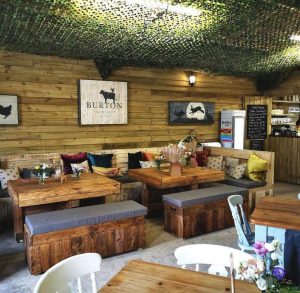 The Grand Opening on the 18th August was much anticipated in the village and things started to get very busy, very quickly.  The venue has proved increasingly popular with both locals popping in for a hearty breakfast, coffee or lunch and passers-by from further afield.
Five weeks after the opening Ange and Dan got married, making 2021 a momentous as well as an incredibly busy year for the pair.
Opening Times
The Kitchen is open from 9am to 5pm (Sunday 9.00 to 4pm), although these times may alter  seasonally.
All the food served is homemade and "farm fresh". Hot food, including specialty gourmet dishes and daily 'specials' are served until 2.30pm. Home made soup, jacket potatoes, paninis, sandwiches as well as delicious cakes available until close. The Gourmet Burgers are already creating a name for themselves!
Vegetarian vegan and gluten free menus are available and there is a brisk trade in takeaways.
The USP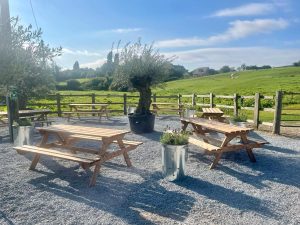 Credit Lee Jane Hawkes
Local groups use it as a meeting space. In good weather the outside area is a beautiful spot to sit and contemplate the world. One could also a little chat with the donkeys and Alpacas, who live in the field next door. The animals are already a great hit with the youngsters as well as the grown-ups.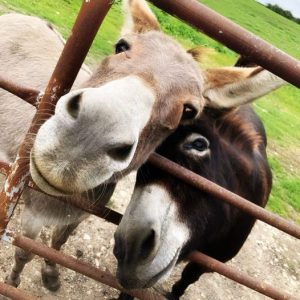 The incredible success of the venture has meant that November 2021 saw the start of Alpine evenings which took place every Thursday through to Christmas. This became so popular that a  further evening was planned in January 2022. This was quickly oversubscribed and late bookers had to be disappointed.
As a result of this popularity, and clear demand, the monthly Supper Club evening is now a fixture. With a different themed cuisine each month planned we can look forward to a Greek/Middle Eastern Evening on 29th April with a Thai theme planned for May.
Pre booking is essential and further details can be found by calling the Shop or on social media/ Facebook page. As the business is awaiting a liquor license, it's BYO, making this a very affordable evening out.
Specialist afternoon teas were launched on Mother's Day 2022 and are now offered daily from 2pm. Again, booking ahead is essential by calling 01454 218866.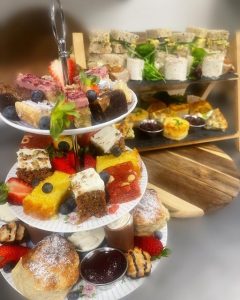 Exciting plans lie ahead for 2022. Watch this space!